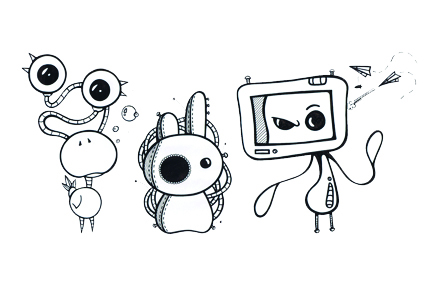 Shelter Scotland picks Daily Doodle for Foursquare campaign!
Shelter Scotland have just launched their very own location-based social networking site on Foursquare and are using some of my little Daily Doodle artworks on a set of collectable badges to accompany the campaign.
As of this week, bargain hunters in Edinburgh have a new way of sharing their thrifty finds, following the launch of Shelter Scotland's location-based social networking site on Foursquare – a first for any UK charity.
As someone who loves a good bargain hunt in the charity shops – I'm delighted to have been asked to play a small part in this innovative campaign by donating some artwork.
Visitors to the charity's eight Edinburgh shops will have exclusive access via Foursquare to make lists of their favourite places, write reviews, take photographs of items and share them with friends. In return Shelter Scotland is offering free rewards and discounts to shop visitors, as well as the chance to collect eight limited edition badges which feature some of my Daily Doodle Artwork.
The badges are going to be given away to anyone who "checks-in" to one of their 8 Edinburgh stores – the first 10 people to collect all 8 badges will get an exclusive signed print.
Gordon MacRae, Head of Communications and Policy at Shelter Scotland, said: "This is an innovative and fun way for us to appeal to a new generation of supporters.  Social networking has become part of everyday life and Shelter Scotland is proud to move with the times – becoming the first charity in Scotland to engage digitally with supporters through Foursquare.
"Our shops offer an array of fantastic high quality second-hand items and play a vital role in raising funds to help in our fight to end homelessness. Our hope is that Foursquare will enable us to spread the word to a new generation of Shelter Scotland supporters."
Shelter Scotland's eight Edinburgh shops will be the first to trial the campaign, with the aim to highlight opportunities across the capital to bring a new lease of life to thousands of donated items.
The campaign is planned to reach Shelter Scotland shops across the country in the coming months, with a view to a UK-wide roll out by 2012.
Find out more about the campaign by visiting Shelter's Foursquare site at foursquare.shelter.org.uk
To find out more about Daily Doodle, browse the related posts in my blog or visit www.daily-doodle.com