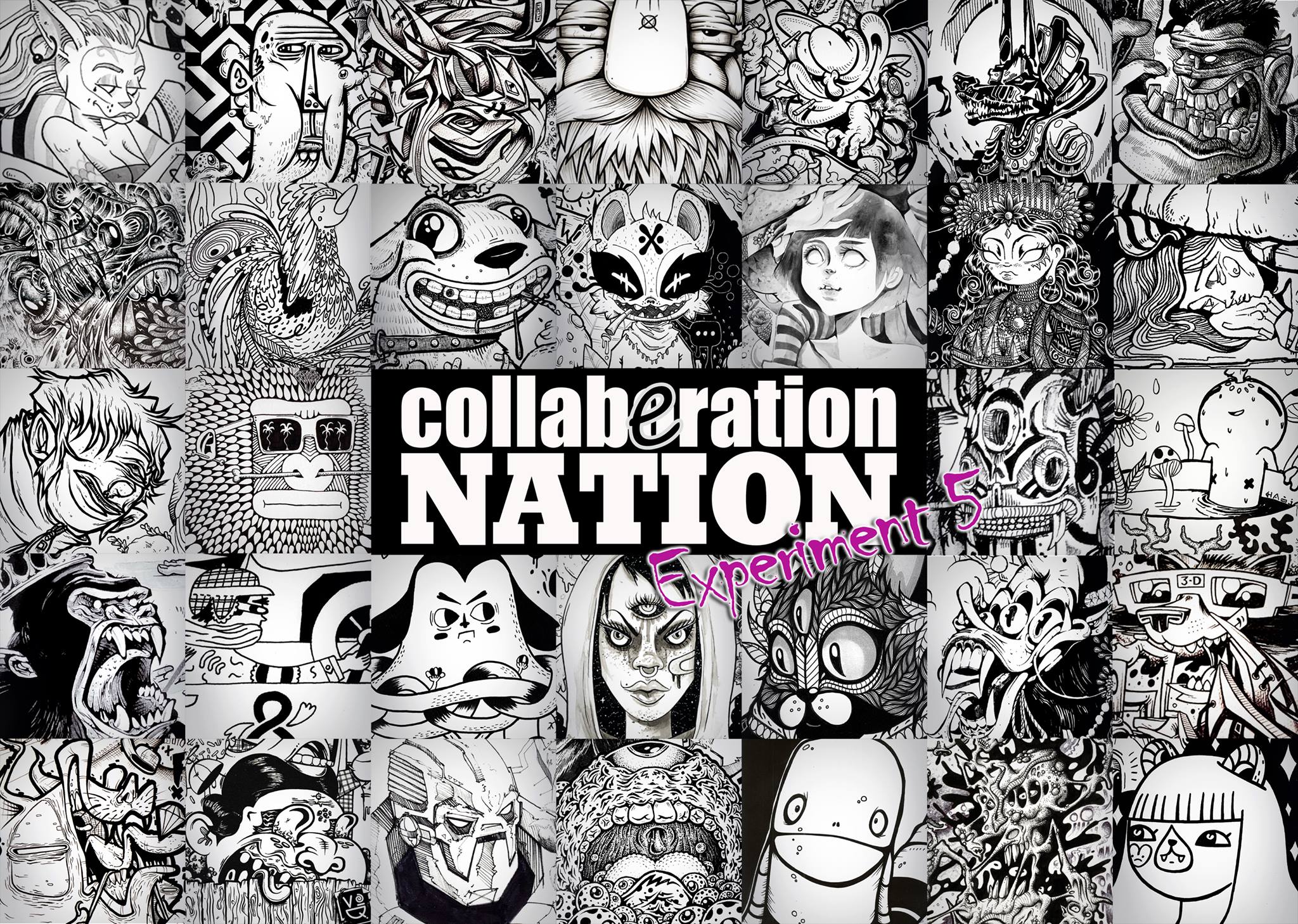 Collab Nation Experiment 5 Exhibition
Collab Nation is a collaborative art project featuring international artists, illustrators & doodlers from all backgrounds.
Each artist taking part starts a drawing and then posts it on to another artist to add to. This continues until 4 artists in total have collaborated on a drawing, a process which produces exciting works of art and sometimes brilliantly unpredictable results.
This is the fifth time that the project has been conducted with this latest chapter, known as 'Experiment 5' being curated by North Wales artist Mr Kobo and also features artists from around the globe, including: Mr Zero, Sopinksy, Mulga, Tony Boy, Teo Skaffa, Key Detail, Malakkai, SpZero76, Paul Monsters, Paveet Sembhi, Candy Lo, Mr Gauky, Creature Creature, Kram, Mererid Haf, Remouse, Stina Jones, Tony Riff, Bukioe, Nol, Nomad Clan, Herzven, Jonathan Edwards, Snub23, Abbie Parry, Klue, Roots, Ocote, El Tobe, Madelen Foss, Chloe Lee, Gloom Bones, Anja Uhren, Craug, Mark and the Whales, Niem, Ilclod, Cadumen, Olla Boku, Chunxx, Korp, Dan Birkbeck, Konze, Rich Inwood, Wooden Cyclops, Kabi, Guts, Lynzz, Boswell, Viktor Void, Penguin Pot, Czee13, LaPeralimonera, Llyr Pierce, PixelsPencil, Mimic, Mr the Beef, Dave Bain, The Real Dill, Collette J Ellis, Mark Steel, Amy Packham & Miss Yonka!
Experiment 5 is concluding with an exhibition showcasing the finished illustrations from the project. I always enjoy taking part in Collab Nation and I'm looking forward to seeing the results!
The show opens on the 4th May from 6.30pm 'til 8pm at Storiel in the picturesque surroundings of Bangor, North Wales. The exhibition continues until the 2nd June.
For more information or to RSVP, head over to the event page on Facebook.