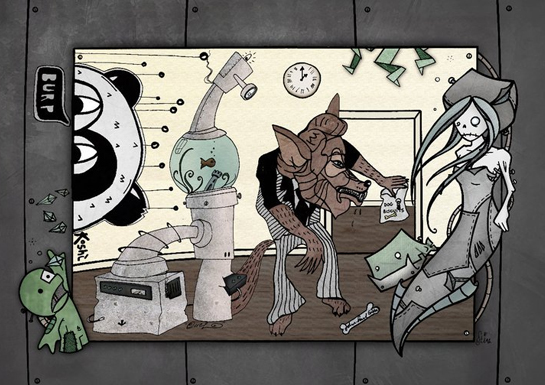 For those of you who follow me on Twitter, you've probably seen lots of sketches and tweets about the Collaberation (Inter)Nation(al) project I've been taking part in this year.
Collaberation (Inter)Nation(al) is the brain child of Bristol based illustrator SPZero76. The idea came from a mixture of wanting to collaborate with some of the artists he admired and also make the link between different scenes within the art world. Think of a chain letter for anyone who likes to illustrate. Up and coming artists and well established professional doodlers working together to create beautiful pieces of art.
Illustrators and graffiti artists get to add their stamp and pass it on. In groups of around 4 people, each artist starts a piece off, and then sends it to the next person to add their bit, and so it goes on. The completed piece eventually gets returned to the original artist who gets to keep the piece, with limited edition prints being available for everyone else.
I came across this project on Facebook after the first Collab Nation project had just kicked off – I spotted one of the artists had dropped out in the first week so I sent the organiser a message and was delighted to be accepted as a replacement.
This was a fun project to work on and I've discovered so many awesome artists and illustrators along the way.
My piece (featured above) was drawn on by Adam McLevey, John Paul Gibbs and Koshi – it was great watching the piece come together and I was pleased with the results. Every one of the collaborating artists did a great job!
Once the artwork was returned to me, I decided to digitally colour it in Photoshop before sending it over to the organiser to be made into a print.
Limited edition prints are available at £50 – if you'd like to purchase one, contact me on hello@stinajones.co.uk
I have a lot of time for this project, so am delighted to be taking part in the second Collab (Inter)Nation(al) wave which kicked off this month. To watch the works from the second wave unfold, or find out about future collabs – add the project on Facebook