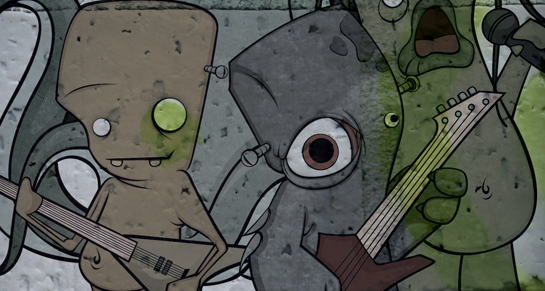 Access to Music, the UK's leading popular music college, approached me in 2010 looking to commission artwork to be used on the CD packaging for Atom Sounds 2, which features a compilation of the tracks that the students had produced as part of their course. Some of my friends have studied at Access to Music and I've heard it's the place to be for music students, so I was thrilled when my illustration agency, Creative Elements, were approached to work with them on this project.
I was briefed to base the artwork around some bespoke monster designs, with an urban, street-art edge.
I started off by developing the characters through hand drawn sketches. Out of the 12 original rough concepts, the client chose 5 of them to be developed up as digital illustrations.

Once the line art was drawn up as digital vectors, I designed the layout and coloured the characters in Photoshop. As we still needed to give the piece that street art edge, I decided to use a stylised photograph of a wall as a textured background, to give the piece a bit of depth and more of an urban vibe.  The result being a grungy illustrated CD cover with the character designs as the central element.
This was a really enjoyable project overall and I'm delighted to have had the opportunity to work with the team at Access to Music Ltd.